Hey girl hey! For the past few years, liquid lipsticks have been all the rage–and for a good reason! Liquid lipsticks are the way and the truth and the life ya'll. They stay on forever, they give you crisp lines, and they seriously do not budge! That is, if you have a good one. I have tried so many liquid lipsticks. I would probably estimate about 100+ different ones. However, there is a drugstore liquid lipstick option that stands out among the rest. If you would like to read all about my favorite drugstore liquid lip, then keep on scrolling!
The Lipstick
I have searched high and low for the best of the best when it comes to liquid lips. I have a few high end faves, but the liquid lip that I seriously cannot put down are the Maybelline Super Stay Matte Ink Liquid Lipsticks. Seriously, these liquid lips do not go anywhere. They stay on forever, they look absolutely amazing on the lips, and give you that full coverage look. Just one swipe, and you have the perfect lip. I have eaten sandwiches with this liquid lipstick on and it stays on through the entire day!
The Shade Range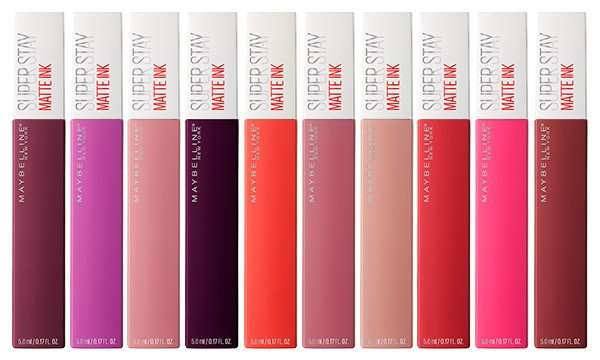 I love the shade range of these lippies! They just recently came out with some new ones, which I want to get soon! There is literally something for everyone, from reds to nudes. I have all of the nude shades, and I love how wearable they are. With all of the different shades, it's so easy to find one that works for your skin tone!
The Wear
I'm not kidding when I say these lippies last ALL. DAY. LONG. I typically wear a liquid lip everyday for its wearability, and these have been in rotation weekly for me. Usually, I start with a MAC pencil liner to define my lips, then fill them in with one of the nude shades. I can wear these for up to 8 hours with no issues whatsoever. If need be, I can add a little gloss to the center to help rehydrate the lips. Out of all of the drugstore liquid lips, these by far have been the best ones in terms of wear and feel on the lips.
The Price
These liquid lips range from $6-7 depending on where you go. I have always bought them from Walmart for a little over $6, so I'm guessing that's where they are the cheapest. How awesome is it that is over half the price of some of the top rated liquid lipsticks?! I'm a huge fan of anything that I can buy for cheaper without compromising quality!
That's my review on my favorite drugstore liquid lipstick! Have you tried these liquid lippies? Let me know in the comments below!